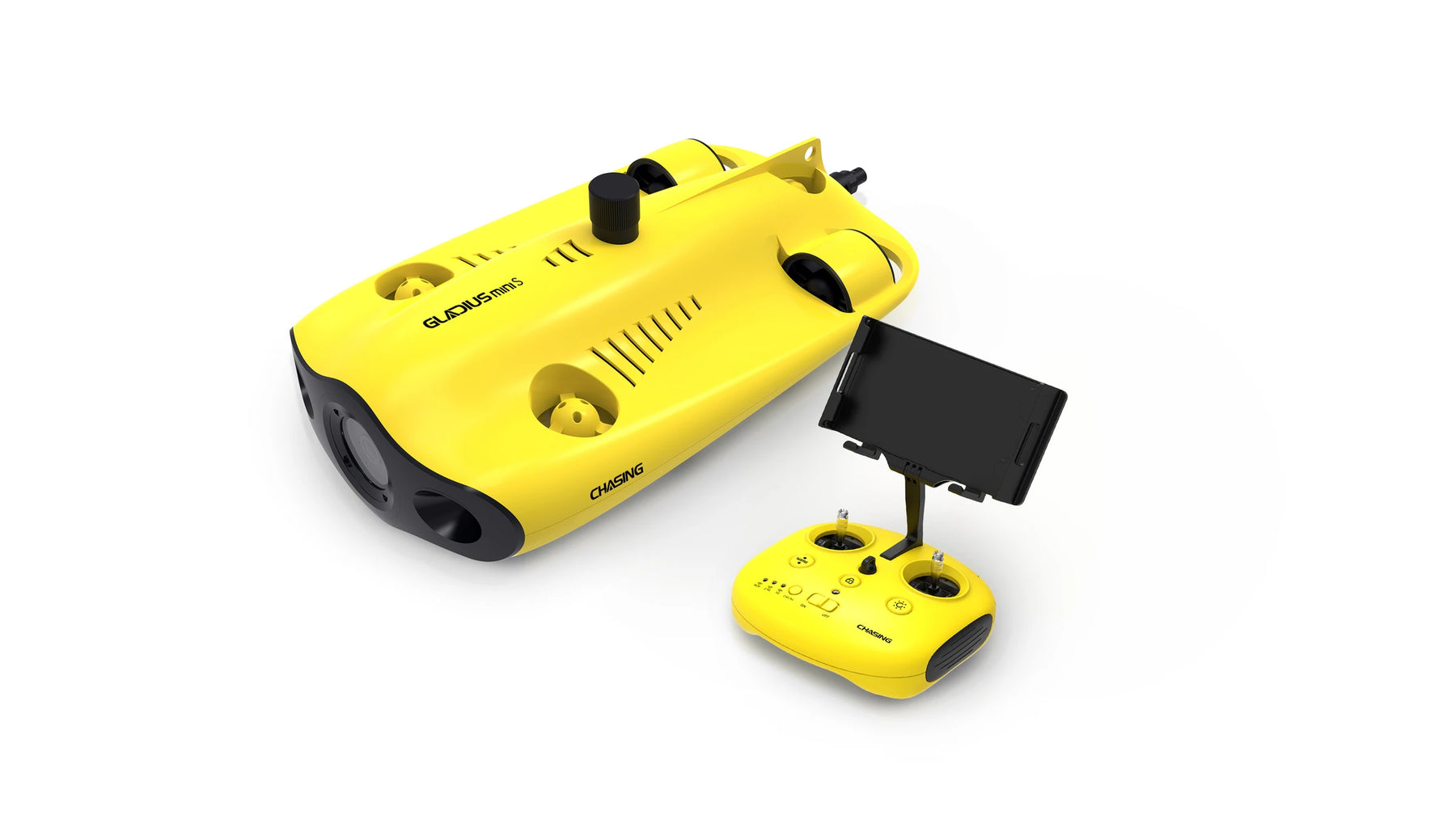 Gladius Mini S sets the benchmark for consumer underwater drones.
Consumer drone technology is progressing at a breakneck pace, yet we usually hear about aerial drones. Underwater drones are also "a thing," and I just got the opportunity to test one of the finest, Chasing Innovation's Gladius Mini S.
A quick glimpse


Construction is tough and robust.
Excellent 4K video
Controls that are responsive
Some more protection on the front and underbelly would be beneficial.
It suffers from some of the same flaws as other underwater drones.
The initial Gladius drone was unveiled by Chasing in 2017, after that, the Gladius Mini was produced, and the original full-size model was phased out.
It has a maximum forwards speed of 4 knots (2 m/6.6 ft per second) and a range of 100 metres (328 feet). It even outperforms the original by being able to move forwards while locked at a tilt angle of + or minus 45 degrees, allowing it to monitor a moving subject above or below it.
In addition, unlike the original Gladius, which had two vertical thrusters in the front and two horizontal thrusters in the back, the Mini features a third vertical thruster in the back, which is said to increase the drone's stability.

It connects with its surface-based operator through an electrical cable that extends from the drone to a joystick control provided with the drone, just like other underwater drones. A specialised app on their smartphone or tablet, which is attached to the remote using an adjustable-size bracket, allows users to see a real-time video stream from the drone's camera.
The tether on the Mini attaches to a port on the drone's top. The Mini S relocates the port to the back, which is a smart decision.

Because the tether is attached on top, it is more sensitive to blows against rocks, and the tether is constantly pushed back from the port at an angle, putting it under stress. Furthermore, if the user has to pull the drone in by its tether (which isn't suggested but may be necessary from time to time), having the tether attach at the back will make it much simpler.
A detachable SD card slot on top, four threaded holes on the underside for installing a GoPro, and four hours of runtime per charge of its two 4,800-mAh lithium batteries are among the other features exclusive to the S version (the base Mini is only good for two hours).
Last but not least, the Mini S may be equipped with an optional Grabber Claw. This accessory attaches to the drone's underbelly and connects to a bottom-mounted electrical connector. Operators may open and shut the two pincers of that claw using a button on the remote (directed by the onboard camera) and use it to grip and release submerged things. Because my demo device lacked a claw, I was unable to test that function.

So, how does the Mini S look up close and personal?
I found the drone to be quite easy to handle  and incredibly strong - it accelerates quickly when you "open the throttle," and it was able to swim upstream in a nearby river. In fact, if you don't want the item to get away from you, you might want to set the app's power to less than 100% at first.
The Mini S also features good build quality (it has a polymer-coated aluminium alloy body), superb video quality, and a stylish design. It drew a lot of attention from passers-by.

When unspooled, the tether becomes tangled or hooked on shoreside items, as it does with all other underwater drones, and the app screen can be difficult to see in strong sunshine — an add-on shade would be an useful buy. It's also easy to lose track of which way the drone is looking in relation to you (unless you can see it through the water's surface), but the app tries to help by displaying a miniature picture of the drone that displays its current orientation.
Because the Mini S is likely to be used on rocky coasts or other uneven terrain, it would be excellent if it had some kind of underbelly protection (maybe rubber skids?) to prevent scratches. The Grabber Claw's port is obviously out in the open down there.


Similarly, some form of projecting front-end protection bumpers would be beneficial. When I unintentionally ran my demo unit into an underwater rock, the front of it got a little scuffed. And, now that I think about it, a streamlined handle on top might be useful for lifting the drone out of the water.
Overall, I enjoyed using the Gladius Mini S and would suggest it to anybody seeking for a durable but yet consumer-friendly underwater drone. The Grabber Claw is an extra $699 and starts at NZ$1,999 for a bundle that includes a 100-meter (328-ft) tether.
https://www.dronetech.co.nz/collections/chasing/products/gladius-mini-s-underwater-drone-with-a-4k-uhd-camera