The Mavic Air 2 is DJI's newest edition to the Mavic series, boasting with an impressive 34 minutes flight time, 48 MP camera and the ability to film 4k at 60fps.
Product Description
| | | | | | |
| --- | --- | --- | --- | --- | --- |
| FLIGHT TIME | ENVIRONMENT SENSING | VIDEO RESOLUTION | INTERNAL STORAGE | GIMBAL    | EFFECTIVE PIXELS |
| 34 min | 3-Directional | 4k 60 fps | 8GB |  3-axis | 48mp |

FEATURES 
3-Axis Gimbal Camera
The Mavic Air 2 is the most portable DJI drone to house a 3-axis mechanical gimbal, with its angular vibration range reduced to 0.005°. Set in a triangular formation, gimbal dampeners help create even steadier shots.
4K Video Resolution at 60 Frames Per Second Video 
The DJI Mavic Air 2 is a game-changer with the ability to shoot video at an incredible 4K 60 fps which was only available before with there Phantom 4 V2. Recording at 120 Mbps to capture every second with Ultra HD quality.
48MP Stills 
The Mavic Air's onboard camera integrates a 1/2" 48-megapixel CMOS sensor and an f/2.8 lens with a 35-mm equivalent focal length of 24 mm to shoot high-quality photos and videos.
8 GB Internal Storage
In addition to a Micro SD card slot, 8 GB of internal storage let you save photos and videos directly to the aircraft and export files through its USB 3.0 Type-C port.
34 min flight time
The longest flight time in DJI consumer drone lineup, the DJI Mavic Air 2 has a 3500 mAh battery capacity which keeps it up in the air for longer flying time.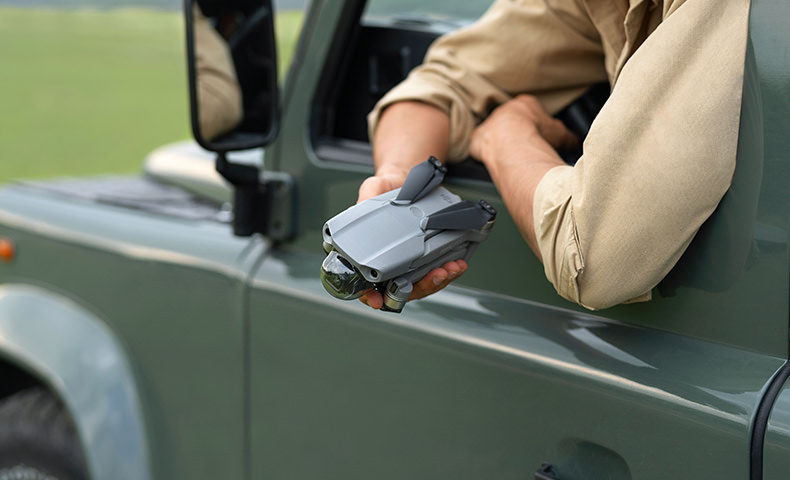 FUN TO USE, EASY TO FLY
ActiveTrack 3.0 can sense multiple selectable subjects simultaneously letting you choose the right tracking subject. With higher tracking precision and broader scenario applications, ActiveTrack 3.0 follows fast-moving targets 
QuickShots 
Choose from six different QuickShots — Rocket, Dronie, Circle, Helix, Asteroid, and Boomerang. All are just a tap away and will get you those epic selfie drone videos without needing to think about composing your shot. Share your new creations to social media through the DJI GO 4 app instantly.
HIGHLIGHTS
48 MP effective pixels
4K @ 60 fps video
ActiveTrack 3.0
Occusync 2.0 8km FCC
34-minute Flight Time

Product Specifications
PRODUCT SPECIFICATIONS
AIRCRAFT 
180×97×84 mm (Length×Width×Height)
Unfolded 183×253×77 mm (Length×Width×Height)
Diagonal Distance:
302 mm
Max Ascent Speed:
4 m/s (S Mode) 4 m/s (N Mode)
3 m/s (S Mode)
3 m/s (N Mode)
5 m/s (S Mode during a sharp descent)
3 m/s (all modes at elevations over 4500 m)
Max Service Ceiling Above Sea Level:
5000 m
Max Flight Time:
(without wind)
34 minutes
Max Hover Time:
(without wind)
33 minutes
Max Flight Distance:
18.5 km
Max Horizontal Flight Speed:
19 m/s (S Mode)<br>12 m/s (N Mode)<br>5 m/s (T Mode)
Max Wind Resistance:
8.5-10.5 m/s (Level 5)
Max Tilt Angle:
35°(S Mode)<br>20°(N Mode)*<br> * 35° under heavy winds
Max Angular Velocity:
250°/s (S Mode)<br>250°/s (N Mode)
Operating Temperature Range:
0° to 40°C (32° to 104°F)
Operating Frequency:
2.400-2.4835 GHz<br>5.725-5.850 GHz
Transmitter Power (EIRP):
2.400-2.4835 GHz 
FCC: ≤26 dBm
CE: ≤20 dBm
SRRC: ≤20 dBm
MIC: ≤20 dBm 
5.725-5.850 GHz
FCC: ≤26 dBm
CE: ≤14 dBm
SRRC: ≤26 dBm
Hovering Accuracy Range

Vertical: 
±0.1 m (with vision positioning)
±0.5 m (with GPS positioning)
Horizontal:
±0.1 m (with vision positioning)
±1.5 m (with GPS positioning)
Propellers:
Quick release, low noise, folding
Satellite Systems:
GPS+GLONASS
VISION SYSTEM
Forward

Precision Measurement Range:
0.35-22.0 m Detection Range: 0.35 to 44 m
Effective Sensing Speed: 12 m/s Field of View (FOV): 71° (horizontal), 56° (vertical)
Precision Measurement Range: 0.37-23.6 m
Detection Range: 0.37-47.2 m
Effective Sensing Speed: 12 m/s 
Field of View (FOV): 44° (horizontal), 57° (vertical)
Available Downward Sensors:
Dual Vision Sensors + Time of Flight Sensors (ToF)
ToF Measurement Range: 0.1-8 m
Hovering Range: 0.5-30 m
Vision Sensor Hovering Range: 0.5-60 m
Downward Auxillary Light:
Single LED
Obstacle Avoidance System:
Advanced Pilot Assistance Systems (APAS) 3.0
CAMERA
Effective Pixels: 12 MP and 48 MP
Equivalent Focal Length: 24 mm
Aperture: f/2.8
Focus Range: 1 m to ∞
ISO Photo (12 MP): 100-3200 (Auto) 100-6400 (Manual)
ISO Photo (48 MP): 100-1600 (Auto) 100-3200 (Manual)
Max Photo Resolution:
48 MP 8000×6000 pixel
Photo Modes

Single:
12 MP and 48 MP
Burst: 12 MP, 3/5/7 frames
Automatic Exposure Bracketing (AEB): 12MP, 3/5 Frames at 0.7EV Bias
Timed: 12 MP 2/3/5/7/10/15/20/30/60 seconds
SmartPhoto: Scene Recognition, HyperLight, and HDR<br>HDR
Panorama:
Vertical (3×1): 3328×8000 pixels (Width×Height) Wide (3×3): 8000×6144 pixels (Width×Height)
180° Panorama (3×7): 8192×3500 pixels (Width×Height)
Sphere (3×8+1): 8192×4096 pixels (Width×Height)
Photo Formats:
JPEG/DNG (RAW)
Video Resolution and Frame Rates
4K Ultra HD: 3840×2160 24/25/30/48/50/60 fps
2.7K: 2688×1512 24/25/30/48/50/60 fps
FHD: 1920×1080 24/25/30/48/50/60/120/240 fps
4K Ultra HD HDR: 3840×2160 24/25/30 fps
2.7K HDR: 2688×1512 24/25/30 fps
FHD HDR: 1920×1080 24/25/30 fps
Colour Profiles:
D-Cinelike, Normal
Video Formats:
MP4/MOV (H.264/MPEG-4 AVC, H.265/HEVC)
Supported SD Cards:
Supports a microSD with the capacity of up to 256 GB
Supported File Systems:
FAT32 and exFAT 
GIMBAL
Stabilization:
3-axis (tilt, roll, pan)
Mechanical Range

Tilt:
-135° to 45°<br>Roll: -45° to 45°<br>Pan: -100° to 100°
Controllable Range

Tilt:
-90° to 0°(Default)<br>-90° to 24°(Extended)
Max Controllable Speed:
(tilt)
100°/s
Angular Vibration Range:
±0.01°
BATTERY 
Charging Voltage Limit:
13.2 V
Charging Temperature:
5° to 40°C (41° to 104°F)
REMOTE CONTROLLER
Remote Controller Transmission System:
OcuSync 2.0
Supported Mobile Device Connectors:
Lightning, Micro USB (Type-B), USB Type-C
Max. Supported Mobile Device Size:
180×86×10 mm (Height×Width×Thickness)
Operating Temperature:
0° to 40°C (32° to 104°F)
Transmitter Power (EIRP):
2.400-2.4835 GHz 
FCC: ≤26 dBm
CE: ≤20 dBm
SRRC: ≤20 dBm
MIC: ≤20 dBm
5.725-5.850 GHz
FCC: ≤26 dBm
CE: ≤14 dBm
SRRC: ≤26 dBm
Charging Input:
100-240 V, 50/60 Hz, 1.3 A
Charging Port: 13.2 V⎓2.82 A
USB Port: 5 V⎓2 A
Operating Current/Voltage:
1200 mA@3.7V (Android)<br>700 mA@ 3.7 V (iOS)
Warranty
WARRANTY DETAILS
MC: 12 Months
Gimbal Camera: 6 Months
Vision Positioning System: 6 Months
Propulsion system (excluding propellers): 6 Months
Remote Controller: 12 Months
Battery 6 Months and Charge Cycle: less than 200 Times
Battery Charger: 12 Months
Frame: No warranty
Propeller: No warranty
In The Box
IN THE BOX
Aircraft x 1
Remote Controller x 1
Intelligent Flight Battery x 1
Charger x 1
Power Cable x 1
Propellers (Pair) x 3
Propeller Guards (Set) x 1
RC Cable (Lightning Connector) x 1
RC Cable (Standard Micro USB Connector) x 1
RC (USB Type-C Connector) x 1
Gimbal Protector x 1
Communication Cable (USB 3.0 Type-C) x 1
USB Adapter x 1
RC Cable Slider (Large) x 1
RC Cable Slider (Small) x 2
Carrying Case x 1
Spare Control Sticks (Pair) x 1