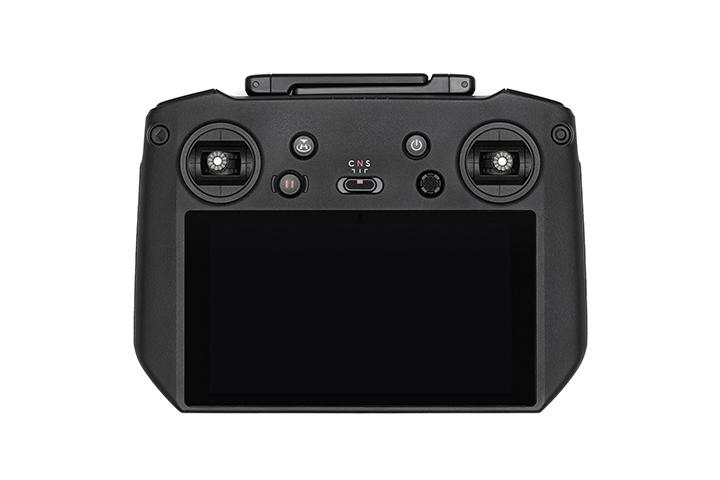 DJI RC Pro
Original price
$1,659.00
-
Original price
$1,659.00
DJI RC Pro a high-bright display with powerful performance, efficient control, outstanding audio and video performance.
Availability: Pre Order - ETA 15th November
Product Description
With powerful performance, DJI RC Pro was made for professional aerial photography. RC Pro runs on a stable and smooth system, thanks to its latest-generation processor and expanded storage capacity. Built with the powerful O3+ video transmission technology, RC Pro also supports the DJI Cellular Transmission Dongle [1] to enable 4G communication [2] and adopts the same control stick design of DJI FPV for more precise maneuvering. DJI RC Pro elevates the experience of flight with unparalleled control.
O3+ VIDEO TRANSMISSION
INCREDIBLE SIGNAL RANGE AND QUALITY, BACKED BY 4G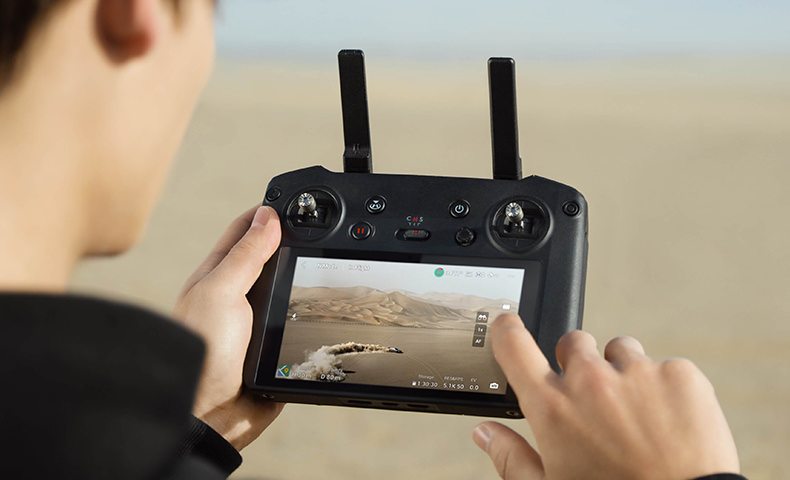 SEE FURTHER
DJI RC Pro features O3+ video transmission technology, capable of sending a 1080p/60fps live feed from up to 15 km away and latency as low as 120 ms. [3] A 2T4R high-gain antenna system enhances signal coverage and keeps the signal transmission stable and smooth.
4G COMMUNICATION
With the DJI Cellular Transmission Dongle installed, DJI RC Pro can operate via 4G signals, providing stable communication even when the drone is flying in urban areas, dense forests, and other complex environments. O3+ transmission coordinates with the 4G system and switches seamlessly to ensure a smooth shooting experience during flight.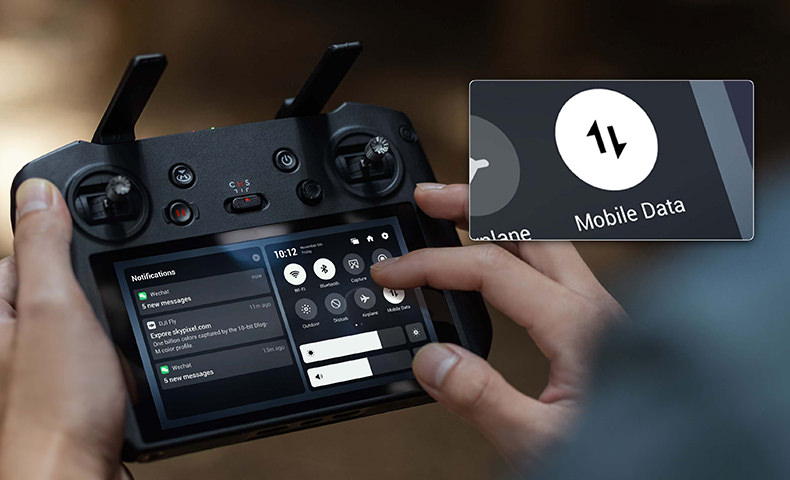 HIGH-BRIGHT SCREEN
DJI RC Pro includes an integrated 5.5-inch 1080p screen that reaches an average brightness of 1000 nits. This long-lasting high-bright display is perfect for its Outdoor mode, [2] where shadow details are enhanced automatically for clear display, even under direct sunlight.
NEXT-LEVEL PERFORMANCE
UPDATED PROCESSOR FOR UPGRADED PERFORMANCE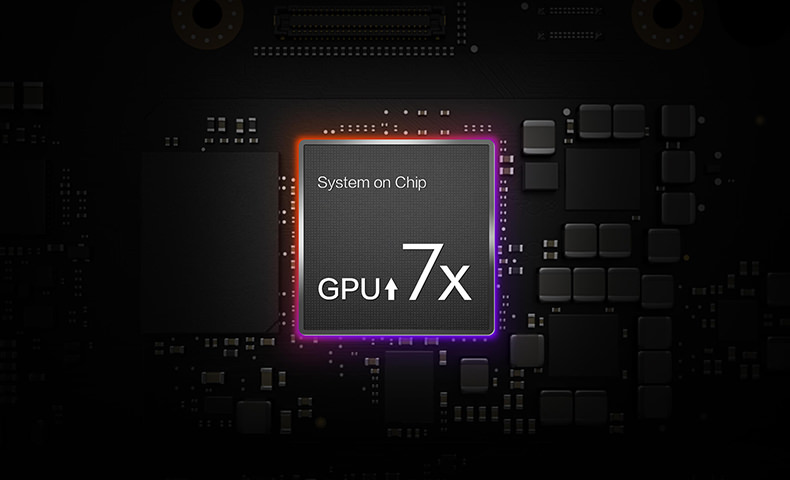 HIGH PERFORMANCE
DJI RC Pro is equipped with the latest-generation processor, offering stronger performance and lower power consumption. This results in 4x improved CPU performance, 7x improved GPU performance, and 20% lower power consumption over its predecessor. DJI RC Pro brings a more durable, stable, and smooth system that simply enhances flying.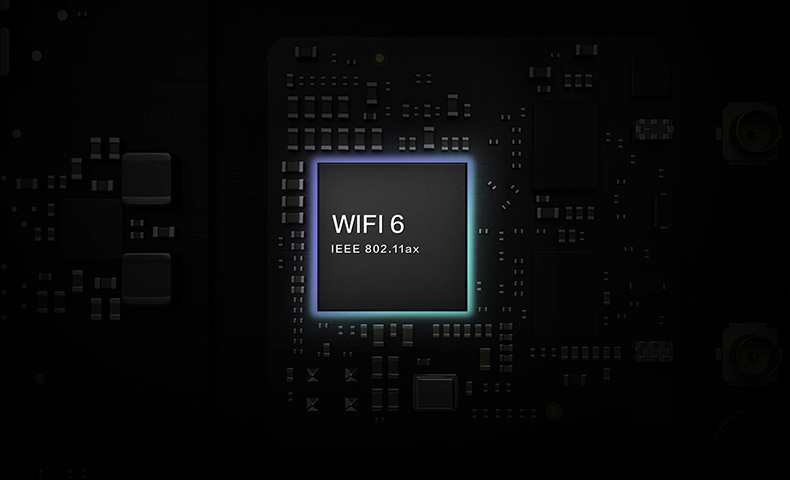 QUICKTRANSFER
DJI RC Pro supports Wi-Fi 6 protocol to download photos and videos from the aircraft at speeds of up to 80 MB/s. [2]
PRECISION CONTROL
DJI FPV-INSPIRED DESIGN. IMMEDIATE TAKEOFF.
FINE-TUNED CONTROL EXPERIENCE
DJI RC Pro uses the same control stick design of DJI FPV for precise maneuvering, smooth operation, and better shot composition.
INSTANT START
Once powered on, DJI RC Pro connects to the aircraft in seconds, ready to capture every moment.
OUTSTANDING AUDIO AND VIDEO
DJI RC Pro supports videos played at 4K/120fps in H.264 and H.265 codecs. A mini-HDMI port, all-purpose USB Type-C port, and microSD card slot also supports charging, storage, and video output.
MORE FUNCTIONS
Optimized for Third-Party, Livestream, and Power
Third-Party App
Livestream
Faster Charging and Longer Operation
DJI RC Pro introduces a livestreaming function, where third-party apps can use the drone's camera view for direct livestreaming, instant sharing of short videos, and more. [5]
Notes:
* Tested with a DJI Mavic 3 production model in a closed environment in favorable conditions and an unobstructed wireless signal. Actual results may vary depending on environment, usage, and firmware version.
† All videos and photos on this page were taken in strict compliance with local laws and regulations.
1. Sold separately.
2. This function will be available in January 2022 through firmware updates.
3. Unobstructed, free of interference, and when FCC-compliant. Maximum flight range specification is a proxy for radio link strength and resilience. Always follow local rules and regulations and fly your drone within your visual line of sight unless otherwise permitted.
4. DJI is not responsible for permissions or information security related to third-party applications and does not provide any technical support for compatibility issues. If an installed third-party app prevents optimal use of your controller, it is suggested to remove the app or restore the controller to original factory settings.
5. Livestream function will be available at a later date.
6. Used with a USB charger of 15 V or higher output voltage.
Compatibility
DJI Mavic 3
DJI Mavic 3 Cine
Product Specifications
PRODUCT SPECIFICATIONS
DJI RC PRO
GENERAL SPECS
Battery:  Li-ion (5000 mAh @ 7.2 V)
Charging Type:  Recommended to be charged with USB charger at 12 V or 15 V
Rated Power:  12 W
Storage Capacity:  32GB internal + expandable storage via microSD card
Charging Time:  2 hours (with USB charger at 12 V) - 1.5 hours (with USB charger at 15 V)
Operating Time:  3 hours
Video Output Port:  Mini-HDMI port
Operating Temperature:  -10° to 40°C (14° to 104° F)
Storage Temperature Range: 
Less than one month: -30° to 60° C (-22° to 140° F)
One to three months: -30° to 45° C (-22° to 113° F)
Three to six months: -30° to 35° C (-22° to 95° F)
More than six months: -30° to 25° C (-22° to 77° F)
Charging Temperature:  5° to 40° C (41° to 104° F)
Supported Aircraft Models [2]:  DJI Mavic 3
GNSS:  GPS + Galileo + GLONASS
Dimensions: 
183.27×137.41×47.6 mm (antennas folded, controllers not mounted)
183.27 x 203.35 x 59.84 mm (antennas unfolded, controllers mounted)
Weight: Approx. 680 g
Model:  RM510

VIDEO TRANSMISSION
Video Transmission System:  O3+
Max Transmission Distance (unobstructed, free of interference):  15 km (FCC) - 8 km (CE/SRRC/MIC)
Operating Frequency [1]:  2.400-2.4835 GHz - 5.725-5.850 GHz
Antennas:  4 Antennas, 2T4R
Transmitter Power (EIRP):  2.4 GHz: ≤33 dBm (FCC); ≤20 dBm (CE/SRRC/MIC)
5.8 GHz: ≤33 dBm (FCC); ≤14 dBm (CE); ≤23 dBm (SRRC)

WI-FI
Protocol:  802.11a/g/n/ac/ax Support 2×2 MIMO Wi-Fi
Operating Frequency [1]:  2.400GHz-2.4835 GHz; 5.725-5.850 GHz
Transmitter Power (EIRP):  2.4 GHz: ≤26 dBm (FCC); ≤20 dBm (CE/SRRC/MIC)
5.8 GHz: ≤26 dBm (FCC/SRRC); ≤14 dBm (CE)

BLUETOOTH
Protocol:  Bluetooth 5.1
Operating Frequency:  2.400-2.4835 GHz
Transmitter Power (EIRP):  ≤8 dbm

SCREEN
Resolution:  1920×1080
Dimensions:  5.5 inches
Frame Rate:  60 fps
Brightness:  1000 nits
Touch Control:  10-point multi-touch

STORAGE
Supported SD Cards:  SanDisk Extreme PRO 64GB V30 A2 microSDXC
SanDisk High Endurance 64GB V30 microSDXC
SanDisk Extreme 128GB V30 A2 microSDXC
SanDisk Extreme 256GB V30 A2 microSDXC
SanDisk Extreme 512GB V30 A2 microSDXC
Lexar 667x 64GB V30 A2 microSDXC
Lexar High-Endurance 64GB V30 microSDXC
Lexar High-Endurance 128GB V30 microSDXC
Lexar 667x 256GB V30 A2 microSDXC
Lexar 512GB V30 A2 microSDXC Samsung EVO 64GB V30 microSDXC Samsung EVO Plus 128GB V30 microSDXC Samsung EVO Plus 256GB V30 microSDXC Samsung EVO Plus 512GB V30 microSDXC Kingston 128GB V30 microSDXC
In The Box
IN THE BOX
DJI RC Pro × 1
USB 3.0 Type-C Cable × 1