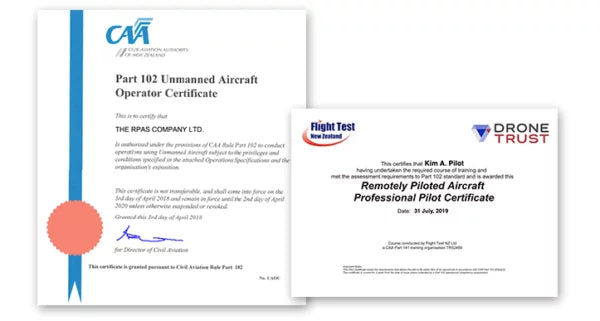 NZ Unmanned Air Operators Certificate (UAOC) Exposition Development Consultation
Original price
$0.00
-
Original price
$0.00
Instead of a course this module provides a quick overview of the CAA Part 102 Unmanned Air Operators Certificate (UAOC) application process, and introduces Drone Trusts UAOC application development services
Introduction
Through its partnership with key RPAS service provider Flight Test NZ, Drone Trust is able to provide Part 102 Unmanned Air Operators Certificate (UAOC) exposition development services.
Perhaps you want to fly at night outside of a shielded operation. Or you have large projects requiring the use of a fixed wing RPAS and Extended Visual Line of Sight procedures. You may even be interested in advanced capabilities such as high altitude or Beyond Visual Line of Sight.
Any operation outside of the CAA Part 101 rules requires a UAOC and submission of an exposition. This exposition is a comprehensive manual suite containing all of the companies policies and procedures relating to RPAS operations.